Water Damage Remediation Services Near Me
2/8/2022 (Permalink)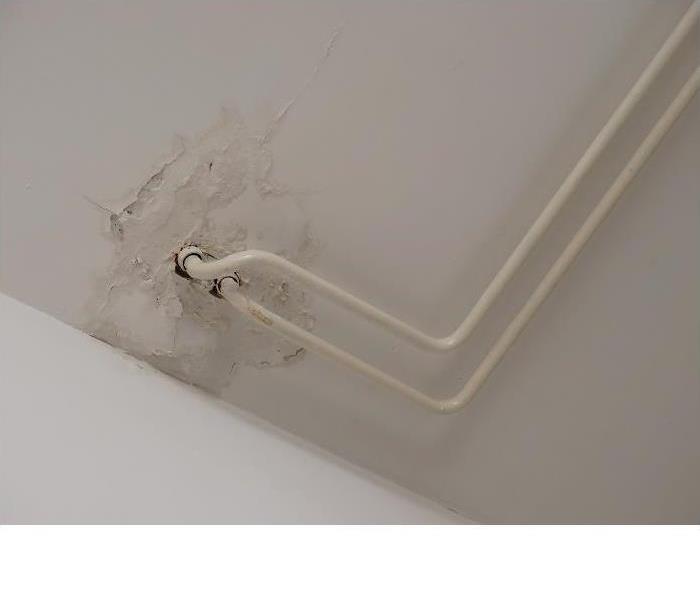 Leaking pipes from the apartment upstairs can cause water damage in your unit. Call SERVPRO for fast remediation.
SERVPRO Can Provide Water Damage Mitigation to Your West Monroe Apartment!

The last thing anyone wants to deal with in their West Monroe apartment is water damage. Many people who live in cities choose to buy a condo instead of a house. Considering that more and more people are trying to do away with cars and use public transportation, it makes sense for those people to also look for homes within the heart of a city.
Finding water damage in your West Monroe apartment can be startling and overwhelming, but it's essential to remain calm. Imagine a situation upon which you wake one morning due to the feeling of water droplets on your face. As you investigate, you realize the apartment over yours has had a significant water loss, and now the damage is trickling into your home.
What Are the First Things I Should Do During a Situation Like This?
Should you ever find yourself in the middle of water damage, try to remain calm. Living in an apartment building, the first thing you should do is:
Contact the Superintendent of your building; they can turn the water off
Contact a professional restoration company like SERVPRO
While waiting, you could lay down some towels to absorb the water dripping from your ceiling
Here at SERVPRO, we arrive swiftly regardless of the time or day. As soon as we are contacted, we can begin to assemble a team of water damage restoration technicians (WRT) to send to your home.
How Can SERVPRO Remove the Water from My Ceiling?
Our SERVPRO technicians have a lot of experience remediating water damage. To remove the extra moisture from your property, we can:
Remove ceiling tiles and dispose of any too damaged for reuse
Use wet/dry vacuums and extractors to expel small puddles of water
Use air movers, air blasting tubes, and dehumidifiers to help ensure excess moisture is dried
We use advanced technology to remediate water damage. Trust our technicians to locate the excess moisture on your property and restore it to its pre-damage state.
If you think you need water damage technicians in your home, call today! Speak with SERVPRO of Monroe / West Monroe by dialing (318) 345-5121. We're always here to help you.