Why Do West Monroe Property Owners Rely on SERVPRO for Restoration Services?
6/24/2019 (Permalink)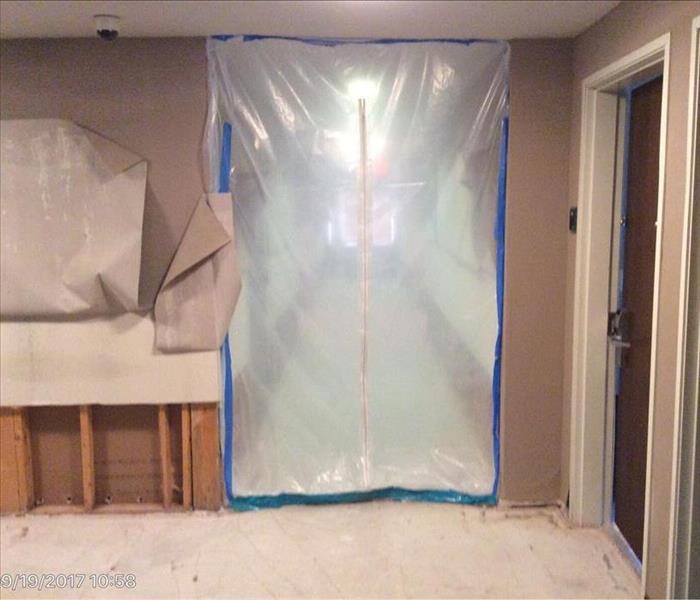 From Zipper Lock Barriers to Trailer-Mounted Desiccant Dehumidifiers--SERVPRO Answers the West Monroe Call Fast and Equipped
Turnkey Service: Why SERVPRO Is the West Monroe Community's Disaster Restoration Industry Leader
Residents of West Monroe who face threats to the comfort, safety, and quiet enjoyment of their home require premium restoration services to relieve worry and stress. We seek and retain employees with diverse backgrounds that complement the skills needed for high-quality restoration as part of the equation. Refining those skills through mastery of Institute of Inspection, Cleaning and Restoration Certification (IICRC) coursework is why we can provide solutions for your most challenging disasters.

Water Damage
Plumbing leaks or appliance malfunctions are common reasons why our team of talented and trained technicians arrives to provide water removal in your West Monroe home. Significant quantities of water can invade your residence and damage structural components and contents after a pipe breaks or a pump or hose fails, particularly if the event occurs unnoticed during the workday or overnight. Rapid removal of unwanted water is crucial, followed by efficient structural drying.

Our SERVPRO water restoration crews are highly-skilled and successful in removing water fast, operating the commercial-grade pumps and extractors expertly and using thermal scanning and moisture detection devices to locate pockets of moisture that migrated into building materials and cavities. If needed, we employ controlled demolition methods such as flood cuts to release water and enhance the action of the air movers, heaters, and dehumidifiers we depend on for structural drying.

The modern home contains a myriad of electronics, from "smart" appliances to audio and video equipment and computers to multiple mobile devices. Our IT Coordinator/Trainer is an Electronics Restoration Technician and supports other crew members using the SERVPRO® DryBook™ system, capturing and tracking each step in your restoration project according to industry best practices and standards.

Fire Damage
The water, smoke, soot, charring, and odors left by fire damage in West Monroe create a complicated restoration scenario best managed by SERVPRO's full-service restoration team. Seamless transitions from the removal of the firefighting chemicals and water to the cleanup of charred materials and soot residues to deodorization using innovative technologies to repair and restoration of damaged structural components avoid the need to subcontract any part of the fire restoration project.

The residues deposited after a fire are highly corrosive and toxic. They drift in the air with the potential to soil surfaces far from the ignition site and to contaminate your HVAC system and ductwork. Our fire restoration crew members hold multiple certifications from the IICRC, including Fire and Smoke Restoration Technician (FSRT) and Odor Control Technician (OCT), and are experienced in duct cleaning. Technicians match cleaning products and techniques with the varying range of soots found in your home, switching out tools, methods, and cleaning agents depending on the characteristics of the coatings.

Odors can linger well after all visible evidence of the fire damage disappears through appropriate restoration. If thorough cleaning, debris disposal, and HEPA-filtered air scrubbers leave a persistent smell, we employ methods like thermal fogging or hydroxyl generation to neutralize odor-bearing particles at the molecular level.

Mold Remediation
Mold damage in West Monroe is more prevalent than you might believe. The spores that cause mold growth are always in the environment, indoors and out. They are tiny, hardly visible, and float on air currents and settle on surfaces. When dry they cause little harm, but when a spore encounters even a small amount of moisture, it absorbs it and begins growing and multiplying into a colony of mold organisms.

Homeowners might notice a leathery or feather-like growth or stain on a surface or smell a distinctive musty smell as first indications of a mold infestation. Mold needs only a surface made of or covered in organic material, moisture, and oxygen to grow. Light is not needed so that it can multiply undetected between walls or above ceilings. When we arrive, we trace the mold back to the source and make arrangements to fix the water problem fueling the mold growth.

SERVPRO mold remediators use a protocol developed by the Environmental Protection Agency (EPA) during abatement. We locate the mold and then contain the infestation area with physical barriers or negative pressure air scrubbing equipment that seals the area during remediation to prevent spread to unaffected areas. Technicians don personal protective equipment (PPE) for safety and to avoid tracking debris through your home.

We scrape, brush, or use gentle abrasives like soda blasting to remove the mold mechanically. Technicians bag the mold and any materials too contaminated to save for disposal following local hazardous waste regulations. HEPA-filtered vacuums suction up any residues left on floors or other surfaces. An EPA-registered antimicrobial treats the affected area to inhibit future mold damage.

Storm Damage
Fierce winds together with heavy rains and other forms of precipitation can cause severe storm damage to your West Monroe home. The violent disruption can rip holes in roofs, destroy the integrity of siding, break windows and doors, and send water flooding into your dwelling. You need help with securing the building from the elements as well as assessment, mediation, and restoration of flood damage.

SERVPRO is positioned uniquely to assist you will all aspects of recovery from storm damage. Our crew arrives, the chief inspects the scene and devises a plan, and the technicians put the plan in play. We tarp and board up exterior breaches and then begin removing the flood waters.

Flood waters are by definition contaminated, mixed with decaying organic matter, dirt and chemicals, or sewage. Containing the water and disposing of it according to local regulation is part of the protocol. We clean the flood-damaged area and apply EPA-registered disinfectants to inhibit the growth of pathogens.

Building Services
Build back services needed after our remediation procedures are handled by SERVPRO's sister company, 318 Construction, LLC. Whether your project needs drywall installation after flood cuts, replacement of burned through building materials or mold-infested porous surfaces, or repair of storm damage we can offer reconstruction. Having our team carry on throughout the process permits us to complete a true reconstruction, with no need to halt the project near the end and engage the services of a different contractor.

When water, fire, mold, or storm damage requires professional restoration services, count on the comprehensive response from SERVPRO of Monroe / West Monroe. We offer proven professional help from assessment through the rebuilding touches that make it "Like it never even happened" with one call to (318) 345-5121.