Struggling to Revive Your Bawcomville Home After Fire Damage?
3/11/2019 (Permalink)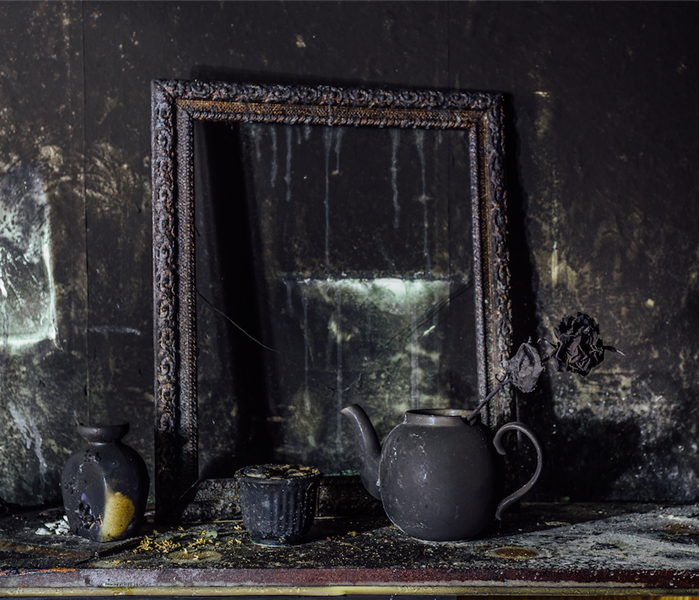 Believe it or not your home can come back from this. Call SERVPRO today for fire damage restoration help.
Salvaging your Possessions after Fire Damage in your Bawcomville Home
Property fires are frequent but rarely catastrophic. Despite beginning in one area of the home, smoke from burning materials can quickly spread throughout. Smoke travels into clean air moving upwards. As it does so, residues in the smoke are deposited onto clean surfaces resulting in soiling. These residues can also cool and drop onto possessions in the form of soot. In the majority of cases, possessions suffer light soiling and can be restored effectively using professional cleaning methods.

Expensive possessions to replace after fire damage in Bawcomville properties could be your blinds and mattresses. SERVPRO works with a restore over replace method to ensure your replacement expenses are kept as low as possible. We achieve this by training our technicians in a wide variety of cleaning techniques that can restore items you may think are non-salvageable.

Different cleaning methods are a requirement when it comes to restoring possessions and using the wrong ones can exacerbate damages. A common concern for homeowners is upholstery, fabrics or mattresses which are porous. Porous materials can shrink using wet cleaning, absorb soot deeper into the fabric or cause color bleeding. SERVPRO use a foam cleaning solution to ensure this does not happen thereby increasing the chances of restoring furnishings to preloss conditions.

For materials that can sustain full immersion in cleaning SERVPRO can use advanced ultrasonic cleaning equipment. This method can be exceptionally useful in restoring blinds or other solid items. Ultrasonic immersion cleaners use soundwaves to agitate solvents. These soundwaves create bubbles which then actively remove soot from surfaces by creating high-pressure and temperature conditions around the item.

It is not always possible to salvage everything after a fire. However, by using the latest equipment and techniques, SERVPRO is confident we can provide an impressive restoration service that mitigates losses and prevents expensive replacements. Items that cannot be salvaged can be packed up and disposed of by your technician in line with federal and state laws.

To restore your possessions to preloss conditions, contact SERVPRO of Monroe / West Monroe at (318) 345-5121 today.

Click here for more about Bawcomville.