Revealed: Understanding the High Tech Equipment That Team SERVPRO Uses to Remediate Damage After a Monroe Fire
10/14/2018 (Permalink)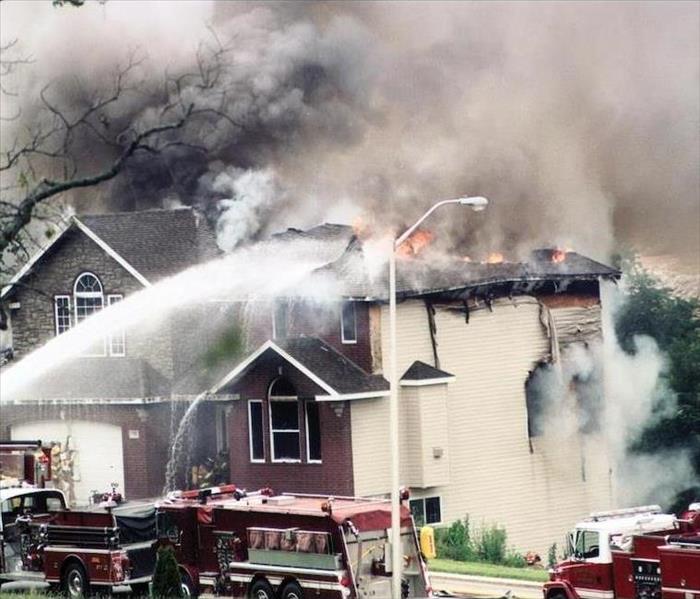 Contact SERVPRO after the firefighters leave so we can begin the remediation process right away. Our response time is critical to the great results.
Using Advanced Equipment to Remove Smoke and Soot after Fire Damage in Monroe Properties
When an area of your house catches fire, the initial blaze can often be contained. So long as flammable materials the spread of flames has a minimal impact. Unfortunately, when materials combust, they release carbon, toxins, and residues into the surrounding air in the form of smoke. Smoke is tricky to contain and can spread rapidly into other areas of the house depositing residues on furnishings, walls, ceilings, and surfaces.

Restoration jobs for properties with fire damage in Monroe are focused on the removal of soot and smoke residues rather than a structural replacement. Only in severe house-fires would is extensive remodeling required. Moderate fires, which are more common, require remediation, cleaning, deodorizing and re-painting. Services that SERVPRO has been delivering for decades.

Removing soils and residues is not merely a case of scrubbing away. There are four aspects which influence how effective a cleaning solution can be. Temperature, agitation (scrubbing), chemical (sanitizers) and time (foams, soaking). There is no one-size-fits-all approach, and a SERVPRO technician conducts a pre-test of soiled materials to learn which methods are most effective in each case.

If it is clear that a material is not going to respond well to basic cleaning methods, we can bring in advanced equipment to help finish the job. Soda blasting can be applied to crevices where thick layers of soot have built up and would otherwise be impossible to remove. For soiled valuables, we can use ultrasonic cleaning equipment to restore them faultlessly.

Ultrasonic tanks use high-frequency sound to create millions of bubbles inside a cleaning tank. Items are fully submerged inside the tank which causes the bubbles to burst on contact produce extremely high temperatures and pressure. Ultrasonic cleaning is incredibly effective at restoring precious metals and other high-density items. SERVPRO has access to a range of equipment to help restore your items rather than replace them.

Cleaning soot and smoke residues by yourself can spread smoke around causing further damage. Contact SERVPRO of Monroe / West Monroe for a professional restoration.

Click here for more information on the city of Monroe.